Sweet, Savory, and Healthy: 9 Almond Snacks You're Sure to Love
Sweet, Savory, and Healthy: 9 Almond Snacks You're Sure to Love
Almonds, with a dose of protein, iron, and calcium u2014u00a0what's there not to like? Whether you're seeking sweets or a snack, there are numerous ways you can ditch the peanuts and go nuts with almonds. Here are nine recipes to show you how!
|
Almond Macaroons
For a crunchy cookie, try our lightened-up almond and coconut macaroons. These cookies are naturally gluten-free and also contain heart-healthy fats from the addition of coconut.
|
Roasted Maple Cinnamon Almonds
For a healthy appetizer at your next party, try these roasted cinnamon almonds. Drizzled with a bit of maple syrup, they're a sweet, sodium-free snack!
|
Chocolate Almond Smoothie
The combination of almond milk and chocolate makes this protein-packed smoothie rich and creamy. Using raw almonds helps to add an extra boost of fiber and protein.
RELATED: Why Almonds Help With Weight Loss
|
Vegan Chocolate Almond Bars
For a sweet treat, whip up these five-ingredient almond protein bars, which only take 20 minutes to make. These chewy, chocolaty bars may taste like dessert, but they are full of protein u2014u00a013 grams to be exact!
|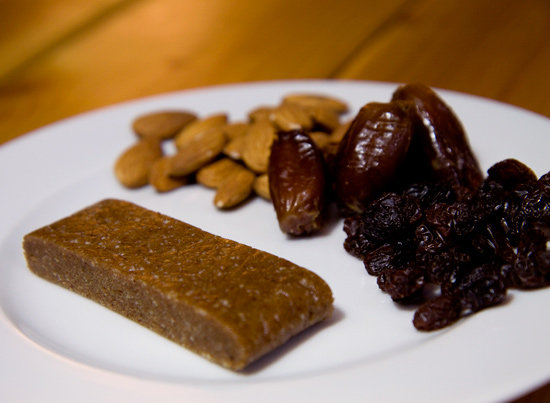 Homemade Lu00e4rabars
Using good ol' almonds, save money and make your own dried fruit and nut bars. Made with almonds, dates, and raisins, they are a healthy snack at about 200 calories.
|
Vegan Almond Butter Cups
If you have a soft spot for Reese's Peanut Butter Cups but not all the junk that goes into them, you will love this recipe. Our vegan almond butter cups contain only six ingredients and are lower in calories, fat, cholesterol, and sugar than the original.
RELATED: 55 Snacks, All Under 150 Calories
|
Coconut Almond Energy Bars
These make-ahead coconut almond energy bars are the perfect post-workout snack, given their healthy balance of complex carbs, healthy fats, and protein.
|
Smoky and Spicy Almonds
Our recipe for smoky and spicy almonds has just about every flavor your taste buds crave. You'll want to make sure you have this snack ready at all times.
|
Almond Milk
Who knew that making your own almond milk could be so easy? What you're left with is a dairy-free milk you can drink on its own, blended up in a smoothie, or alongside your favorite healthy cereal.
RELATED: Why Almonds Are Lower in Calories Than You Think